I am cutting (global) travel industry growth targets by 15% for June/July/August summer travel for the following reasons:
Airline Supply Issues
Airlines are "facing some supply issues – supply of aircrew, of air routes, of air fuel and, maybe most important of all, of airline pilots", per NPR.  
"Pilots are in really short supply, and airlines are struggling to get the left and right seats filled in their cockpits… He says this shortage has been on his radar for years." per pilot and Southwest Airlines pilot association head Casey Murray.  
These supply problems cannot be fixed overnight. These are quite concerning, there no quick fix and this unfortunate mix will drive airlines to pass on their increased costs onto travelers in the form of higher pricing. 
GDP Growth Reduction
The reduction in global GDP growth ranging from 0.9% to 1.5 pp (as of May 2022) by the likes of Goldman Sachs, the European Union, the IMF, and others. Goldman Sachs "recently lowered our 2022 Euro area and UK GDP forecasts by 1.4pp to 2.5% and by 0.9pp to 3.8%, respectively.. We recently lowered our (United States) 2022 Q4/Q4 GDP forecast to 1.75% on higher oil prices and other conflict-related growth drags".
The rate increases for next year especially concerning for me since 2023 which was broadly believed to be a stronger overall year for the travel industry.
Skyrocketing Inflation
Skyrocketing inflation costs and subsequent much-needed (and long delayed) fiscal measures over the next 12-18 months contribute to the reduction in growth. 
Inflation rate for the United States has been 7.5% for Jan, 7.9% for Feb, 8.5% for March 2022 — these are staggering increases.
"By a wide margin, Americans view inflation as the top problem facing the country today" per Pew Research May 12, 2022.
If food, transportation (to/from work), utilities, petrol/gas, and most overall household costs are going up ~7% a month, there's less interest and discretionary funds for big-ticket trips.
Consumer Price Increases
"Airline ticket prices are up 25%, outpacing inflation" per CNBC.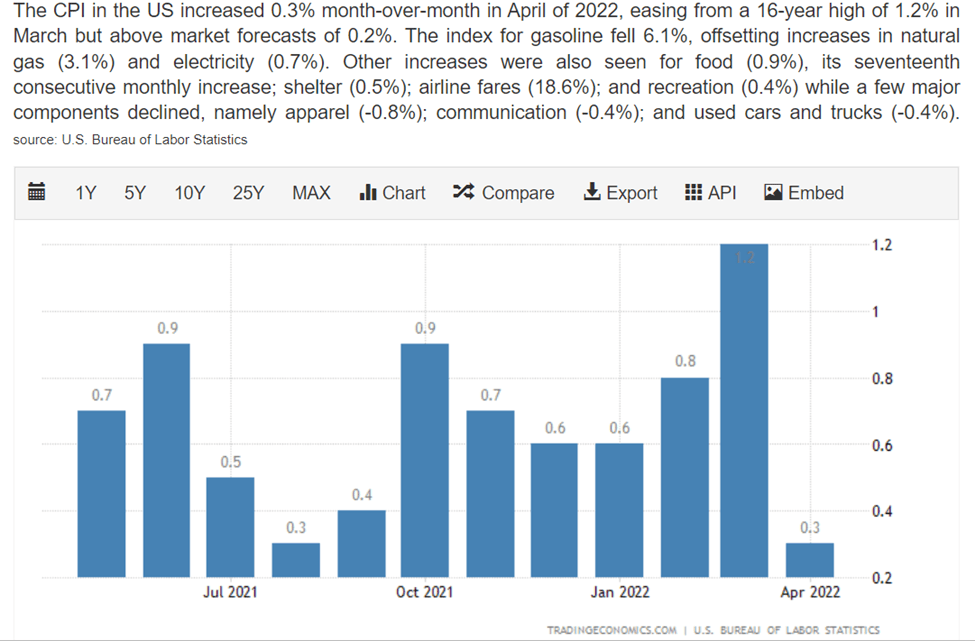 If consumers, economy class travelers for example, don't feel like spending (negative sentiment) as much as they thought earlier in the year, whether justified or not, whether for pandemic-related reasons like in years past or the reasons I outline here, I am led towards dampened travel market growth for the "summer" June/July/August time period.
Dropping Consumer Sentiment
According to the University of Michigan, the deteriorating overall consumer sentiment in key markets is accelerating, "Consumer sentiment in the U.S. is at its lowest ebb in 11 years after another sharp drop." per Michigan Consumer Sentiment Index. 
Travel has a positive elasticity of demand so the slightest price change has a disproportionate reduction on demand. Not a new observation but one that still applies within a consumer sentiment context.  
Central Bank Rate Increases
Central bank lending rate increases from India (including a surprise one), Chile, Argentina, Malaysia, the United Kingdom, Mexico, and the USA; among others.
The Fed has raised its funds rate twice this year and is currently targeting a range of 0.75% to 1%. Goldman Sachs economists expect that rate to reach 2.5% to 2.75% in 2022 and a range of 3% to 3.25% the following year.
Auto, house, credit card and other loans will cost more which has a well-documented knock-on effect.
Uncertainty Around Ukraine
The uncertainty of whether the war will escalate further contributes to volatility which in turn negatively affects the June/July/August travel season, although there are nascent signs (fingers crossed!) of the war losing momentum at the time of writing (May 2022); this can change very quickly.
Conclusion
I expect a choppy 3 months — not a trainwreck but definitely a noticeable reduction — and I'll recalibrate my end of year travel industry growth mid to end Q3. 
Lastly, I struggled quite a bit whether a 20% reduction is warranted and I've taken a relatively optimistic 15% growth reduction. 
As always, never a dull moment in travel.
---
I appreciate your reading my viewpoints which are subject to updates as market forces ebb and flow. You should expect revisions and revised observations as the underlying factors change. 
I encourage you to subscribe to my newsletter for important changes in my viewpoints.
---